Despite knowing the big names, are you still looking for the best and advanced email marketing software that does not break your bank?
Then, today this post will lead you to your best decision ever with following more pros like –
Low-cost,
Customized Free email templates,
An easy user interface,
Email automation, and much more.
Despite the plethora of email marketing software present in the market, Moosend, is one of the top affordable email marketing service providers picks for 2021
It's not only Moosend's easy drag-and-drop editor that requires no knowledge of HTML OR 40+ free ready to use and custom email templates.
There is much more to add!
SEND UNLIMITED EMAILS FOR FREE WITH MOOSEND
What is Moosend?
Moosend is an email marketing automation platform, with quite a few fancy add-ons that can help you reduce the number of tools in your tech stack, and generate leads on the go.
Moosend email marketing and marketing automation software come with a wide variety of tools, benefits, and integrations.
This is what makes it perfect for both SMBs and well-known companies, along with its subscriber-based pricing model.
A platform that's intuitive and features some powerful tools, allowing you to do more with your email marketing campaigns.
We can divide the main Moosend features into 5 categories:
Email marketing
Automation
Personalization
Lead generation
Analytics
This is quite a lot for an email marketing software, which makes me want to love them from the get-go.
But it also means it's time to put my marketing detective glasses on and get into the thick of it!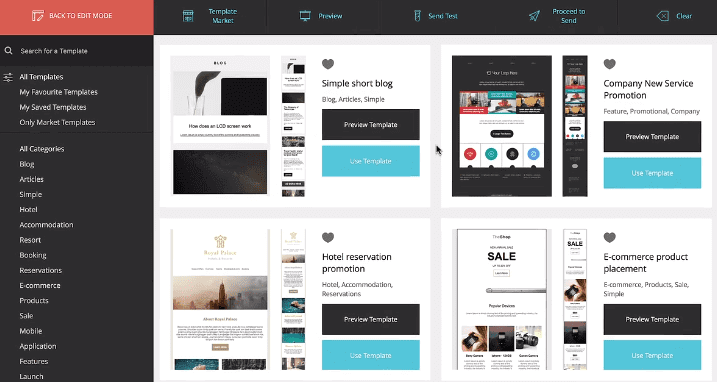 First things first, Moosend has a beautiful template gallery.
All you have to do is drag & drop the right elements to your newsletter.
From there, you add your content, and you're good to go!
There are newsletter templates for specific industries (e.g. accommodation and hotels), specific email marketing content (e.g. product launch) and more:
Automation
Black Friday sales
eBooks
Invitations
RSS
The list goes on and on. They really have one of the best-organized email template libraries I've seen (and I've reviewed plenty of email marketing tools).
And in addition to email newsletter templates, Moosend also offers landing page templates:
You'll get Moosend landing page templates for all kinds of pages:
Product announcement
eBooks
Lead generation
Webinar registration
Personally, I find their templates to be more modern than, say, MailChimp and ConvertKit templates.
They're also 100% responsive, so they automatically adapt to different devices.
Finally, the folks at Moosend also offer sign-up form templates, including:
Pop-up templates
Sticky bars
Floating bars
Full page forms
All in all, Moosend has a pretty solid template gallery.
So far, so good!
There is a special place in heaven for email marketing software (and software in general) that offers drag & drop editors.
Why?
First of all, very few business owners know how to code.
Consequently, that means you have to spend money on web designers' services to create every newsletter, landing page, and sign-up form.
Secondly, coding everything from scratch takes (too much) time.
Moosend's drag & drop designer is a great asset!
All you have to do is pick the template you like the most, drag and drop the sections you want in your design, and add your content.
That's literally all there is.
Additionally, you can get elements directly from:
Stock photo sites
Giphy
Google Drive and Dropbox
Facebook and Instagram
2.3. Moosend email segmentation
Audience segmentation is the key to achieving that sweet, sweet 4400% ROI from email marketing (on average, you get $44 for every $1 you spend on email marketing).
So, what is audience segmentation exactly?
Audience segmentation means taking all of your subscribers and then dividing them into specific groups based on their shared characteristics.
For example, if you've got two types of people who buy your socks: professional athletes, and enthusiasts, then you wouldn't send all of them the same content.
Why?
Because professional athletes want to make sure that their socks absorb sweat.
Enthusiasts want to be more like their role models, and they want to look cool.
Their why – motivation, which is crucial in marketing and sales – is different.
Audience segmentation allows you to understand every type of customer you have, and then divide them according to shared factors that ultimately make them buy your products.
Fortunately, Moosend plenty of options for email segmentation!
You can use criteria such as:
Demographics (Age, gender, etc.)
Behavior (Past purchases, products viewed, etc.)
Email opens and interactions
Time (When did they perform an action such as purchasing or viewing a product?)
Interestingly enough, Moosend has its own segmentation templates, i.e. suggestions for how you should segment your audience to make sure all your content is hyper-targeted.
All in all, I really like their audience segmentation features!
They are very simple to use, and the suggestions are a nice touch for getting started – especially if this is the first time you're sending email marketing campaigns.
2.4. Moosend email personalization
Where there is segmentation, there can be personalization.
Why is this important?
First of all: your customers expect to receive personalized content.
According to a RedPoint Global survey, more than 63% of consumers expect personalization.
And since email is one of the most powerful channels for nurturing relationships, it makes sense that your personalization should be up to standard.
Now, a lot of other newsletter services make it really hard to personalize.
With Moosend, email personalization becomes a piece of cake.
You can personalize your email content based on simple and complex factors:
Add subscriber custom fields (e.g. name fields so you can address each subscriber with their own name)
Preferences
Products
Behavior
And more!
In the example above, Moosend personalized trip suggestions for Nick who really, really likes Barcelona.
This is personalization at scale.
For example, if another subscriber that we'll call Joe liked traveling to London, he'd have gotten the same email with different recommendations.
After viewing a particular set of products, Tom will get this product recommendation email.
On the other hand, Jane will get this one:
At the same time, all you have to do is create 1 email, and everyone gets the personalized version that works for their unique needs.
How is this possible?
With a little thing called…
2.5. Moosend email marketing automation
Moosend is also one of the simplest email marketing automation platforms out there.
In fact, the entire segmentation and personalization are made possible by their automation system.
Moosend's email marketing automation can work for you in a few different ways:
First, you can customize product offers triggered by your leads looking at specific products, or just a general product recommendation.
You can also automate your onboarding sequences, possibly one of the most important sequences in your entire sales funnel.
On average, welcome emails have a 91.43% open rate.
With Moosend, you can have your welcome emails be triggered by new subscriptions, and then wait a day or two to follow up
Cart abandonment? No problemo!
If a customer adds a product to the cart, you can have Moosend wait a while to see if they proceed with the purchase, which triggers a thank-you email.
If they forget about their cart, you can set up an automated email sequence to remind them of the product.
Once you get new leads, it's important to differentiate between those who are ready to buy and those who still need convincing.
Moosend has templates for two typical flows: a customer either buys a product right away (this automatically gives them extra lead scoring points), or they just click on the product offer (fewer points, but it shows conversion potential).
This is pretty handy, as lead scoring allows you to differentiate between leads whose order value you can maximize and those you still need to nurture.
It can also help you understand how to make more money with your business through email marketing.
Want to reward your super-profitable customers, AKA: your VIPs? Moosend has a template for that!
Again, Moosend really does have a great template library, and that doesn't just go for newsletter and landing page design.
It also applies to automation sequences, so you don't have to be a tech whiz to increase your sales.
And after you've tested the templates, you can also create and infinitely scale your custom automations.
That's also very simple with Moosend, as the automation relies on 3 components:
Triggers
Conditional/control steps
Actions
Triggers are actions your leads and customers take, and they set off the entire automation sequence.
They include:
Email opens
Page views
Purchases
Clicks
And more!
Conditional/control steps dictate when the sequence will be launched.
For example:
Launch the sequence depending on the weather in the contact's location
Filter by contact preferences
Time delay
Then, decide what will happen next with actions such as:
Send a specific email campaign
Trigger an automation
Change lead score
And so on.
All in all, it's really easy to get everything set up!
2.6. Moosend email A/B testing
Finally, you can also A/B test your email campaigns.
You can test all kinds of aspects; from your copy to the videos you share with your subscribers, and you'll get detailed performance information.
And speaking of analytics…
2.7. Moosend email marketing analytics
Again, Moosend is a powerful engine underneath a simple exterior, and its analytics are similar.
First things first, you'll be able to get an overview of all your campaigns at a glance.
Instead of having to dive super deep into the specifics, and then create an Excel sheet to compare the data, you'll get all the information you need in one place.
Secondly, you'll see complete contact profiles.
You can see which subscribers opened which email, what they clicked on, and so on. AKA: you'll know what every subscriber cares about.
This is always handy to look at.
You might find a new shared preference and then segment your audience accordingly.
They create great heatmap software that shows you how your contacts interact with your content (e.g. clicks, scrolls, and so on).
Moosend also offers heatmap analytics for your email marketing campaigns.
Just like in the example, you'll be able to see what your contacts click on, how they scroll, and what content they care about the most.
For example, you might find that some of your links are more enticing than others.
Similarly, maybe a lot of your contacts scroll over certain parts of your content without looking at them.
From a bird's eye view, you can easily travel down to micros with contact profiles.
You'll see their entire journeys and behavior history.
Finally, you can track your Moosend email campaigns through Google Analytics, as well.
All in all, their analytics are pretty good for an up-and-coming email campaign service!
2.8. Moosend landing pages
If you want to convert, you just can't do without a landing page.
You can use landing pages for all kinds of things:
Turning (chance) visitors into leads
Satisfying search intent for search visitors, and making sure they know your product is the best one on the block
Converting leads into customers
When it comes to landing pages, there's one golden rule: one "why," one landing page.
Let me explain: you can't have one landing page for all kinds of people.
20+ landing pages that convert
If your audience is composed of people who buy socks from you, and people who buy shoes from you, you can't just make one landing page for both and call it a day.
Why?
Because that landing page then speaks to no one in particular.
Socks lovers will say: "Meh, this is confusing."
Shoe lovers will say: "Mmm, not sure this brand gets what I need. I'll keep looking."
That's why you need to create one landing page for one audience segment.
Now, if you're doing all of that manually, it's gonna be a hassle.
Fortunately, email marketing software providers like Moosend offer landing page creators so you can connect your landing pages to your mailing campaigns seamlessly, and create them in minutes.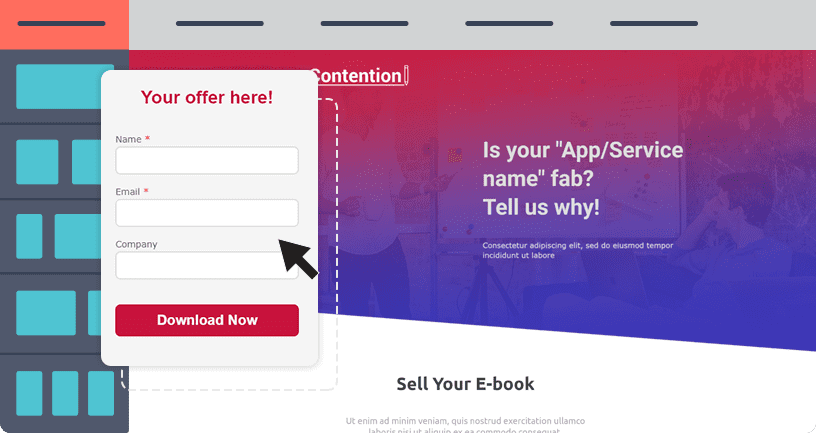 The landing page editor is identical to the email editor.
You just have to drag & drop, and you can pick from all kinds of templates, as well:
Landing pages for courses and webinar registrations
Landing pages for eBooks
Landing pages for email subscriptions
And more!
The landing pages are 100% responsive, so you can convert on desktop, mobile, and tablet.
You don't have to worry about your loading time, either.
Moosend uses a Content Delivery Network that guarantees your landing pages load super fast.
Otherwise, if your landing pages loaded slowly, you could lose a lot of customers.
Moosend also has an important conversion-boosting element for your landing pages: the powerful countdown timer.
Personally, I'd like to see them add more elements like countdown timers.
You can also integrate elements such as:
Facebook Pixel and Google Analytics Pixel
Custom fonts
Custom JavaScript options
And if you run your website on WordPress, you can easily integrate Moosend with their plugin.
2.9. Moosend subscription forms
In order to use email marketing, you have to get the email addresses first.
To help you, Moosend offers all kinds of subscription forms:
Modal pop-up (Have your email campaign subscription form pop-up on your designated page)
Inline form (Add your subscription form within your content)
Floating bar (Add the subscription form at the top or the bottom of your page)
Floating box (The form will stay in the view as your visitor scrolls down the page)
Full page form (Put your form front and center)
Again, you'll get plenty of templates to work with. You can customize them in the Moosend's visual editor.
You can choose which forms will be displayed, based on different criteria:
Pages
Devices
Countries
Cities
Operating systems
Cookies
You can also add the forms into your Moosend automation mix, and then funnel contacts to the right forms, sequences, and products.
2.10. Moosend eCommerce automation
Often, I see newsletter services that don't differentiate between different industries.
If you're an artist or a freelancer, your sales funnel and your email marketing automation won't be the same as when you're an online store owner.
Fortunately, Moosend has specific features for eCommerce automation.
In addition to the basic personalization and automation features that Moosend offers for all their users, if you're an eCommerce entrepreneur, you'll get plenty of extra features to help you.
First, the Moosend AI can send personalized product recommendations that match your customers' tastes (based on their previous behavior and purchases).
This way, your sock lovers will get the coolest zebra-striped ones, and shoe lovers will get the boots that are made for walkin'.
Second, you can easily cross-sell your customers.
If a customer has bought a particular product, you can recommend a complementary or a similar product they might like, too.
This helps you maximize the value of your existing customers, and that's always a safer bet.
Let's be real: repeat customers drive 40% of a store's revenue.
If you're selling perishables, you can easily keep your customers stocked.
You can automate refill reminders, and make sure you're actually getting recurring revenue.
Finally, this same AI allows you to chart your customers' journeys; from the point where they first find out about you, to the point of preferences and products they'll never say no to.
2.11. Moosend integrations
Finally, because Moosend only helps you with email marketing, you're going to need more tools to successfully convert your prospects.
Moosend integrates with tools such as:
Content Management Systems: WordPress, Drupal
Customer Relationship Management tools: Google Contacts, Zoho CRM, Salesforce, and more
eCommerce software: Magento, WooCommerce, ThriveCart, and more
Lead generation software: Elementor, OptiMonk, Zendesk, and more
And more!
SEND UNLIMITED EMAILS FOR FREE WITH MOOSEND
Moosend pricing: is Moosend worth it?
Currently, Moosend has 3 pricing plans: free, paid, and enterprise.
However, it also uses a credits system, which I'll explain in a sec.
As per usual, your final price depends on the number of your subscribers.
With Moosend's free plan, you get all the core features, with the exception of landing pages.
Now, this is not ideal.
But if you're just getting started and your audience targeting is simple (you don't sell different products that satisfy different audiences), you'll have no problem getting started without landing pages.
With Moosend's free plan, you'll get:
Up to 1,000 subscribers
Unlimited emails
Email campaigns
Subscription forms
Basic templates
Countdown timers
AI product recommendations
Automation workflows
Analytics
100+ integrations
What you will not get with Moosend's free plan is:
Transactional emails
Landing pages
Custom reporting
Phone and priority support
But still, it's a good plan if you're just starting out.
I especially like the fact that they offer automation.
Normally, that's a premium feature with other newsletter services.
Moosend's Pro plan basically gives you everything else that you need to scale your business.
In addition to getting all the things you get in the free plan, you'll also be able to:
Create landing pages
Use transactional emails
Phone support
You won't get access to enterprise features because, let's be real: you don't really need them.
The main advantage of going with the Moosend Pro plan is the subscriber limit: you can have up to 200,000 subscribers.
However, your price changes as you go:
$8/month for up to 2,000 subscribers
$16/month up to 3,000 subscribers
$24/month for up to 5,000 subscribers
The pricing goes on accordingly. The highest possible price is $608/month for up to 200,000 subscribers.
But at that point, I hope you'll be making so much money that $608 will seem like spare change.
3.3. Moosend Enterprise – Custom plan
I won't dwell too much here. Moosend Enterprise, i.e. 
 The custom plan is great for huge companies, or you, if you have over 200K subscribers.
The pricing is not readily available, so you'll have to get in touch with them.
But with Moosend Enterprise, you'll get custom reporting, your own IP address, and more.
Still, you won't get any extra core features.
Everything you really need is in the Pro plan.
3.4. What are Moosend credits?
If you don't plan on using email marketing often, you might be more interested in paying when you actually send emails.
This is the so-called credits system: you pay for credits, which then allow you to send a certain number of emails.
At the same time, you're getting all the features from the Pro plan, unlimited subscribers, and there are no "expiration dates."
Moosend credits are handy if you don't use email marketing often, or if you're offering email marketing services to clients.
3.5. Moosend free vs paid plan
Honestly?
If you're just starting out and don't have a lot of subscribers yet, go with the free plan.
It's really easy to scale with Moosend as you grow, and the free plan has 99% of the features you need.
(I'm still ticked off about the landing pages, though.)
However, if you have a diverse audience and you need to create multiple landing pages, then it might be best to jump straight to Pro for the landing page editor.
At the end of the day, the choice is yours.
What I can tell you is that Moosend is a simple email marketing platform, and the learning curve isn't steep at all.
You should have no problems launching powerful marketing campaigns with basic knowledge.
SEND UNLIMITED EMAILS FOR FREE WITH MOOSEND
MooSend FAQs
Is there any free trial available? 
There is a Free-forever plan available. It can cover up to 1,000 subscribers and can offer unlimited emails.
What about the refund policy of MooSend?
Moosend's support team is always available to discuss any type of issue that may arise.
If you're still unsure, you can always try the Free-forever plan or the pay as you go plan.
The pay as you go plans is perfect for the occasional sender. Purchase credits-one for each email you'd like to send and you'll be good to go. The credits don't have an expiration date.
How can I migrate to Moosend? 
With 100+ integrations, there surely is an integration to help you migrate to Moosend from other email marketing platforms, like MailChimp, Constant Contact or Active Campaign.
Yes, you can. Moosend is an Email Service Provider (ESP) that provides bulk email marketing services and tools.
How good is Moosend's deliverability?
Moosend's deliverability rate is quite high. According to tests run by Sender Score, Moosend's reputation is at 98%.
SEND UNLIMITED EMAILS FOR FREE WITH MOOSEND
Conclusion – Is Moosend the Right Newsletter Service For You? 
Email marketing is the best tactic to reach and engage your targeted audiences. And anyone would be fascinated to know the fact that every $1 spent gives you $38 ROI (Return on Investment) from powerful email campaigns.
Today, not only bloggers but SEO agencies, affiliate marketers, eCommerce Shopify stores, Amazon sellers, etc., use email marketing to drive conversions.
Moosend is a great platform for both the novice and the experienced marketer. The platform is intuitive and easy to use and it can work as a one-stop-shop for all intents and purposes.
I recommend it for everyone in need of great email newsletters and great marketing automation features.
There is really no industry that can't benefit from this email marketing service provider.
If there isn't a feature, there will be an integration that will meet your needs.
All in all, in today's Moosend review, it is clear that it is an ideal tool for anyone that would like to get started with or get better in email marketing.
Create your own stunning campaign by signing up for free.